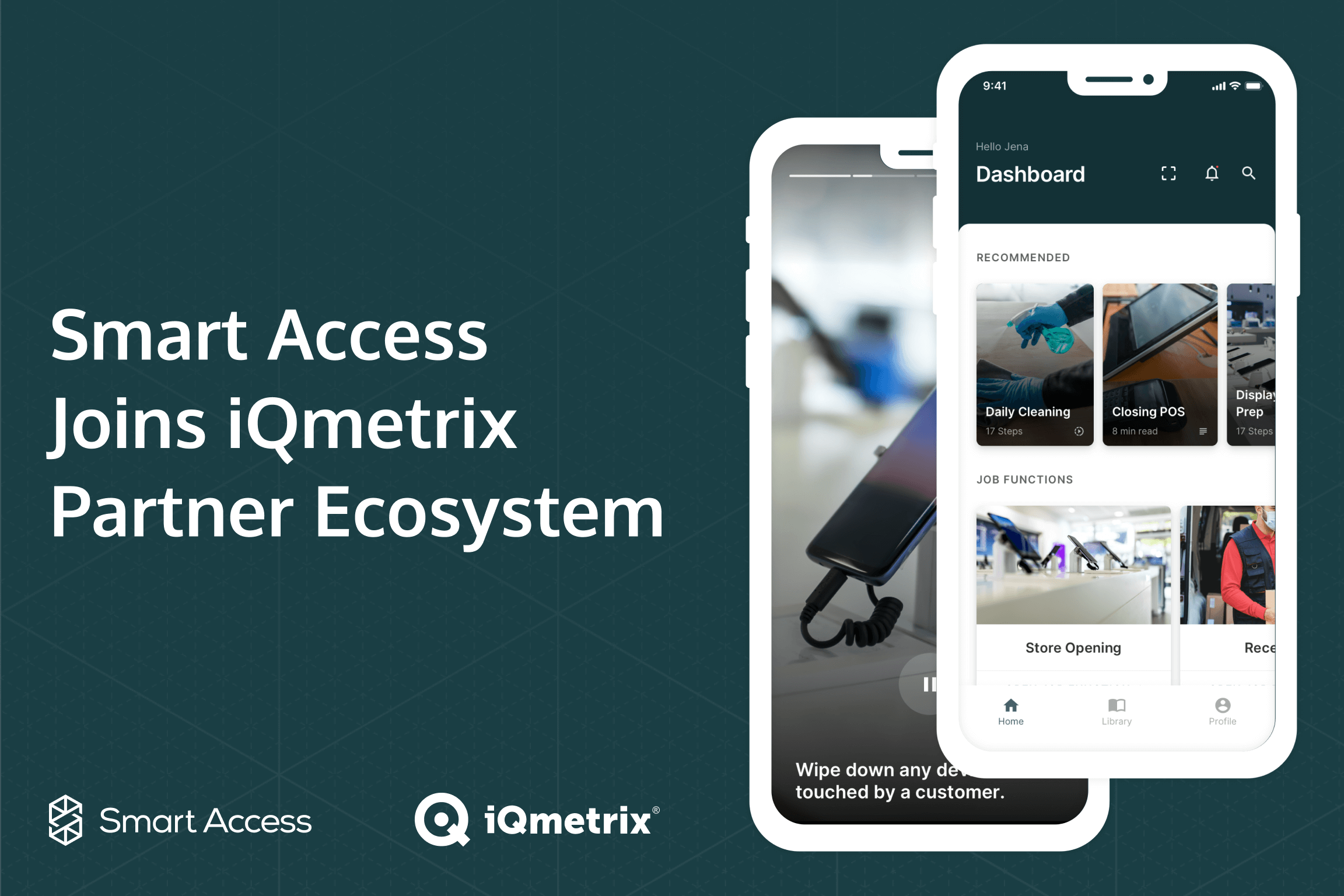 Smart Access Joins iQmetrix Partner Ecosystem
Smart Access' location-aware employee training system now available to iQmetrix telecom retail clients
VANCOUVER, BC – April 13, 2021 – iQmetrix, provider of North America's leading telecom retail management software, has joined forces with technology innovator Smart Access and welcomed them to its extensive partner ecosystem. iQmetrix clients can now leverage the Smart Access location-aware mobile performance support platform to dramatically improve on-the-job training.
The Smart Access platform enables rapid creation and delivery of job-specific training and product content to frontline workers. It enables telecom retailers to train store associates fast, effectively, and at scale. Bite-sized content is delivered to employees' mobile devices using QR codes and near-field communications technology (NFC), which is embedded throughout the store and back office. This technology delivers on-the-spot training that is tailored to the exact work situation, is personalized to the individual's role, and can be consumed in seconds. Smart Access accelerates store associates' journey to productivity, helping retailers adapt operations quickly so they can compete at the pace of modern retail.
"Telecom retail workers are critical to delivering a seamless customer experience. The Smart Access mobile performance support platform gets new workers trained and productive six times faster than traditional learning management systems so they can deliver consistent, high-quality service from the frontline," said Tim Regnier, CEO of Smart Access. "Our location-aware technology is a powerful addition to iQmetrix's partner network and supports telecom retail operations to be more agile, efficient, and productive."
The iQmetrix partner ecosystem is constantly expanding, helping its clients' businesses grow in efficiencies and revenue. Joanne Helm, Vice President of Partner Management at iQmetrix, added, "We launched our partner ecosystem to enable our customers to work seamlessly with key vendors that complement our software. Adding services like a mobile performance support platform is key to providing clients with tools to increase efficiency at the employee level and customer satisfaction at the company level."
###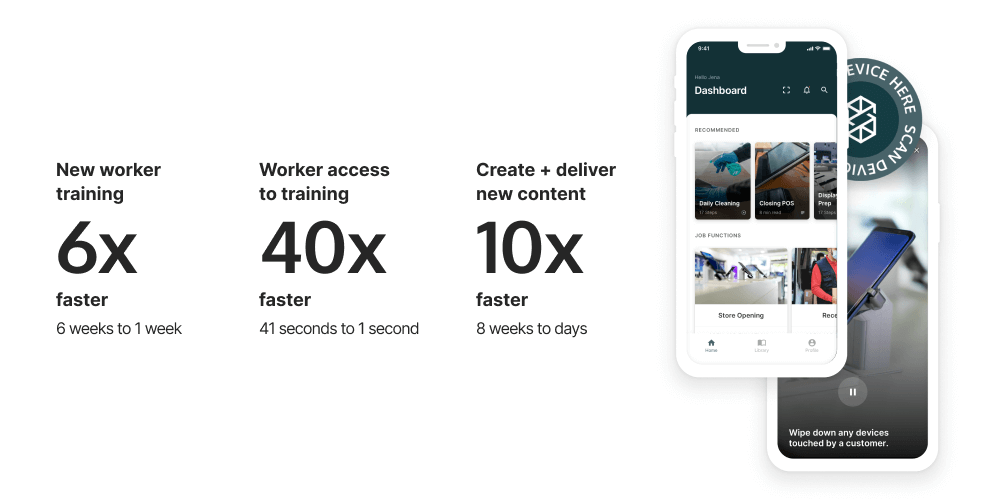 About iQmetrix
iQmetrix's intelligent retail management software is designed to power the telecom industry. Our software is built around enabling telecom retailers to deliver a buy-anywhere strategy through multi-channel inventory management and digital retail solutions; make data-driven decisions using powerful reporting; and unify storefronts and digital channels for a consistent customer experience, in-store, online, and anywhere else. For 20 years, we've been passionate about helping the leading brands in telecom to grow by providing excellent software, services, and expertise that enables them to adapt and thrive. Learn more at www.iQmetrix.com.
About Smart Access
Smart Access' location-aware mobile support platform equips retailers to train and reskill frontline workers faster. With training embedded on the store and warehouse floor, we accelerate speed to competency for frontline workers, reducing onboarding time and equipping retailers to reskill workers rapidly as operations shift. The technology runs on worker's mobile devices and delivers microlearning that is tailored to the exact work situation, personalized to the individual, and can be consumed in seconds. Retail leaders can create and distribute learning content to the frontline in days, and measure learning effectiveness with real-time analytics. Learn more at www.smartaccess.io.
Media Contacts
Chantel Elliott
marketing @ smartaccess.io
Joannah Connolly
[email protected]