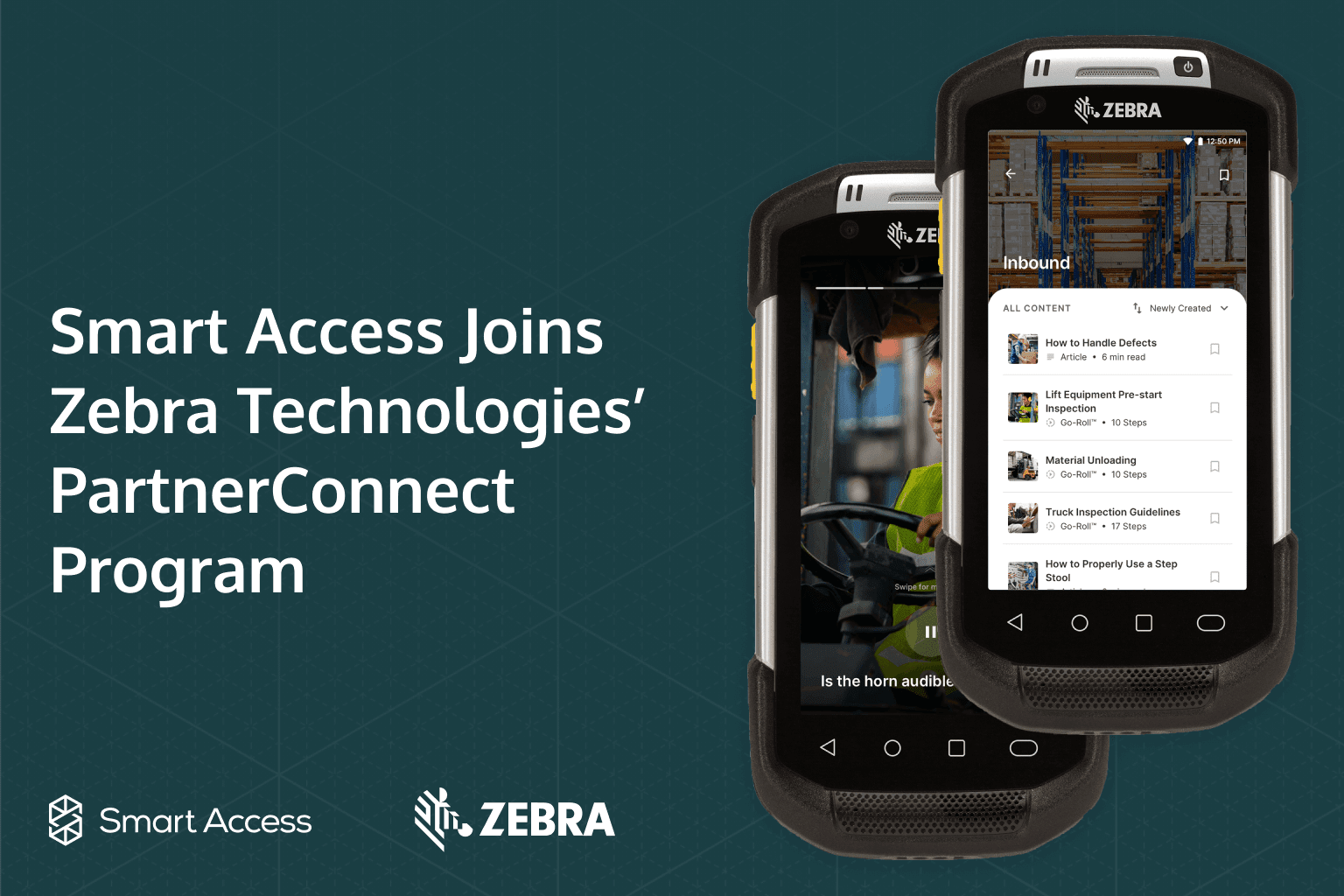 Smart Access Joins Zebra Technologies' PartnerConnect Program
Smart Access mobile performance support platform is now a Zebra Technologies' partner, making it easy for retailers using Zebra mobile devices to train and reskill frontline employees fast, effectively and at scale.
EDMONTON, AB—May 4, 2021 — Smart Access, a leader in frontline employee development training, announced today its participation in Zebra's award-winning PartnerConnect program. Zebra Technologies is an innovator at the front line of business with solutions and partners that deliver a performance edge. Smart Access joins as a registered Independent Software Vendor (ISV) partner to deliver modern frontline training that is fast, effective and scales – from the store or warehouse floor.
Smart Access mobile performance support platform uses location-aware technology to deliver bite-sized training content to a worker's mobile device that is tailored to the exact work situation, personalized to the individual's role, and consumed in seconds.
"Our location-aware training technology is a perfect fit for Zebra's extensive network of global retailers and retail technology solutions," said Tim Regnier, Smart Access CEO. "Now Zebra's retail customers can leverage Smart Access technology to get new workers trained and productive six times faster than traditional learning management systems by delivering personalized on-the-job training directly onto their Zebra devices."
As an ISV partner, Smart Access gains access to an innovative portfolio, along with comprehensive training, extensive marketing, sales and technical benefits. Smart Access chose to join Zebra's PartnerConnect program to support retailers using Zebra devices and showcase how the mobile performance support platform can drive frontline productivity.
"As a PartnerConnect member, Smart Access now has access to industry-leading solutions, training and tools that will allow us to collaborate with Zebra's global partner network and showcase how we can meet their modern frontline training needs," said Greg Barone, Vice-President of Sales, Smart Access. "As a registered Independent Software Vendor, Smart Access mobile performance support platform has been tested and certified as compatible with Zebra's latest mobile devices used in retail."
Zebra's PartnerConnect Program is designed to evolve the best of Zebra's inclusive channel ecosystem, addressing the needs of distributors, solution partners, independent software vendors (ISVs) and resellers, providing opportunities for growth and meeting customer and market demands.
###
About Smart Access
Smart Access mobile performance support platform helps retailers train and re-skill workers faster, using technology that's location aware. We embed training at the store or warehouse floor to give workers instant access to personalized microlearning, right for their situation and which they can consume rapidly in the flow of work. We equip retail leaders to create and distribute new content in days, and measure learning effectiveness with real-time analytics. With Smart Access, new hires contribute faster, and businesses can adapt and compete at the new pace of modern retail. Find out more at www.smartaccess.io.
Media Contact
Chantel Elliott
marketing @ smartaccess.io
ZEBRA and the stylized Zebra head are trademarks of Zebra Technologies Corp., registered in many jurisdictions worldwide. All other trademarks are the property of their respective owners. ©2021 Zebra Technologies Corp. and/or its affiliates.