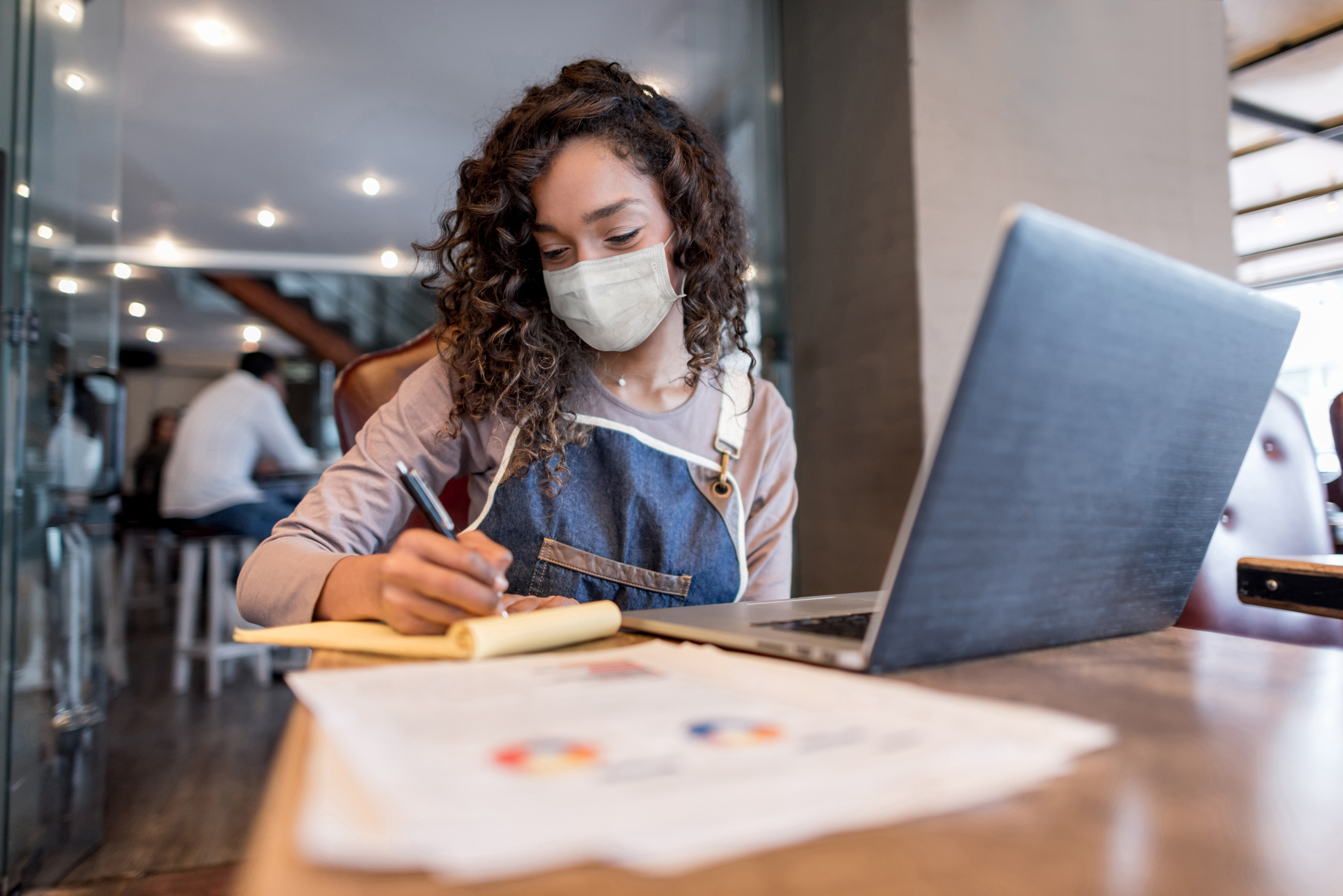 Verizon authorized retailer integrates with iQmetrix partner Smart Access to improve staff proficiency and create service consistency across its 100 stores.
Why Learning Management Systems (LMSs) are failing retail
Across the US, large retailers such as Walmart, Target and Kroger, seek to attract and retain top talent. With hundreds of locations and thousands of employees to train and develop – how do you ensure workers are trained consistently and at scale? Historically, Learning Management Systems (LMSs) have played an important role in retail talent development, especially for office workers.
Why? They ensure control and consistency of training topics, track learner progress and provide reporting and analytics to guide training decision-making. They offer retailers value when training on specific topics and uses such as:
General new staff onboarding such as training on company policies or guidelines.
Soft-skill training such as how to handle difficult customers and time management.
Even before the pandemic, learning management systems did not serve frontline workers well since it removed them from the store or warehouse floor anytime training was needed. Now, with the rapid changes of the past year, retailers are struggling with the speed, effectiveness and cost to quickly train and re-skill frontline staff. It's time to consider, is your LMS serving all of your retail training needs?
What's wrong with your current learning management system?
LMSs were designed to distribute long-form content to an audience that had sufficient time to sit in front of a computer screen uninterrupted. Learning management software simply doesn't work for retail's frontline.
Here's why it fails:
Your LMS lacks agility. It's expensive and slow to create and distribute new content. Typically, it takes large retail organizations at least six weeks or more to prepare new learning content with another week or more to deliver that new training material to frontline workers. This considerable effort delays getting knowledge out and can make retailers resistant to adapting and improving operations.
Your LMS is taking workers out of their flow of work. It does not provide information in the moment of need – when and where a worker needs specific task guidance. Training is often difficult to search and consume. Workers struggle to find the answers that are relevant to their exact situation, if they exist at all.
Your LMS lacks meaningful personalization and context. While your LMS offers some personalization, it does not offer searchable content for specific tasks or roles, or is personalized to a worker's location, time or action.
Retail leaders need to ditch lengthy LMS training modules and transform this content into easily digestible, bite-sized content delivered to a worker's mobile device, in the moment of need.
Does this mean a mobile LMS is the answer?
More major retailers like Walmart are providing mobile devices to their frontline or supporting Bring Your Own Device (BYOD) as part of their talent development strategy. Retailers are taking advantage of this revolution to provide more engaging in-store experiences to customers, reduce device procurement costs and gain visibility into in-store performance.
While more frontline workers have access to mobile devices, simply offering LMS content through a mobile learning app isn't enough.
Workers are also overwhelmed with too much information pushed to them at once. We have a filtering problem that search doesn't solve, because workers are wasting time hunting for information.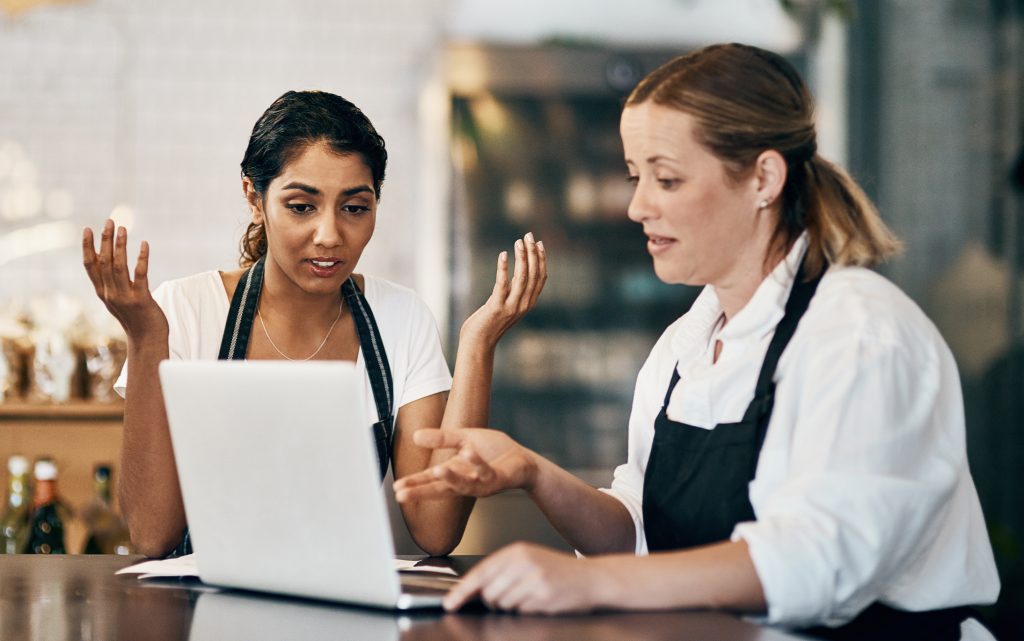 Retailers need to provide the right training to help the frontline work smarter, sell more and serve customers better. Advancements in retail technology including location-aware technology, rapid creation of quick how-to videos and data per learning asset (DPLA) analytics can help retailers deliver a more engaged workforce, which ultimately delivers great customer experiences.
Get training content out of your learning management system and into the hands of your frontline.
While your LMS provides value to office workers, retail's frontline needs a more effective tool. Smart Access mobile performance support equips retailers to train and re-skill frontline workers faster using technology that's location aware.
Here's how Smart Access helps retailers close their LMS training gaps:
Rapid content creation and distribution. We equip retail leaders to very rapidly create and distribute training content including quick how-to videos. Create new learning content 66 times faster – from 6 weeks to 3 days. Distribute content to frontline workers in seconds vs. days.
Personalized training that happens in the flow of work. We embed training on the store or warehouse floor to give your workers fast access to personalized training, right for their situation. Workers scan a sticker with any mobile device to access training specific to that location. Users see content relevant to their specific role, skill level and search history.
Easily consumable microlearning content that workers can consume in seconds, in the flow of their work when they need it. Workers get micro task guidance for the exact steps workers need help on. Atomized content includes quick how-to videos, checklists, and safety rules.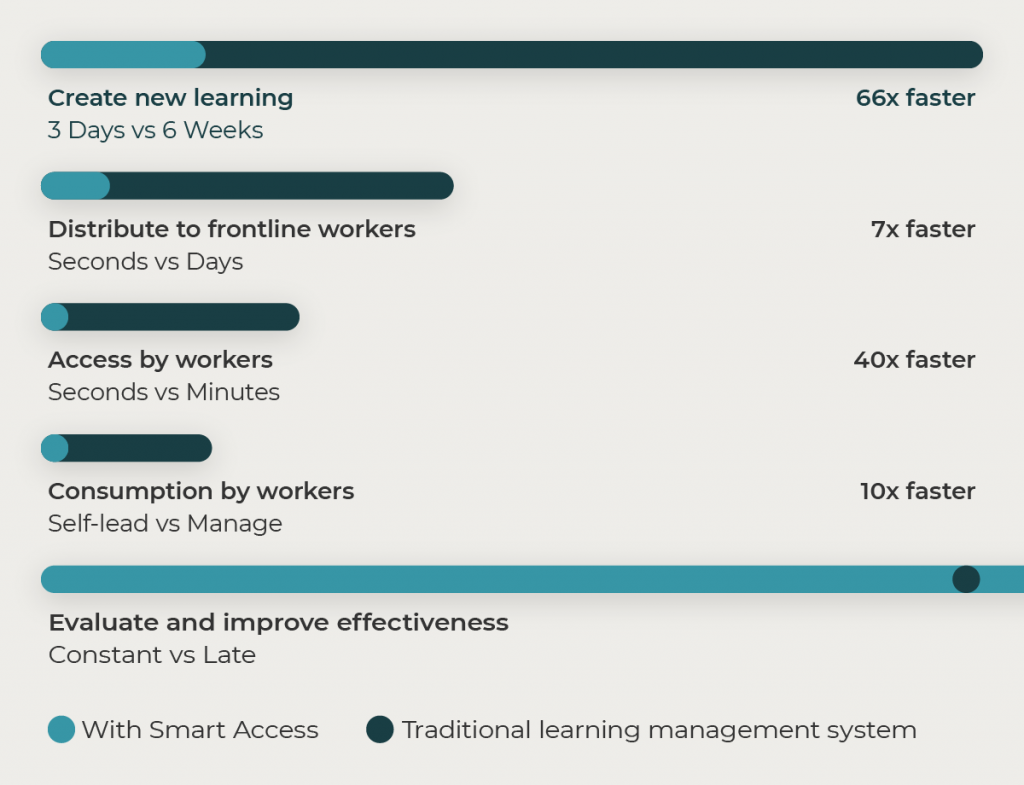 Here's how it works.
Imagine Lynn Snider, a pharmacy technician at a major retail chain like CVS. It's her third week in her new job and she needs to restock the shelves with an incoming antibiotic shipment. But it's her first time completing this task on her own and she can't recall what she needs to do first. Her coworker is busy with another customer and her manager is in a meeting. She could attempt to search through the company's LMS to try to find the answer in the backroom, but that removes her from the store floor. Plus, the answer is likely not there because it's a specific task related to her role.
With Smart Access, Lynn can use her mobile device to scan a sticker on the store floor to see personalized task guidance on how to restock shelves, that's tailored to her location, role and experience level.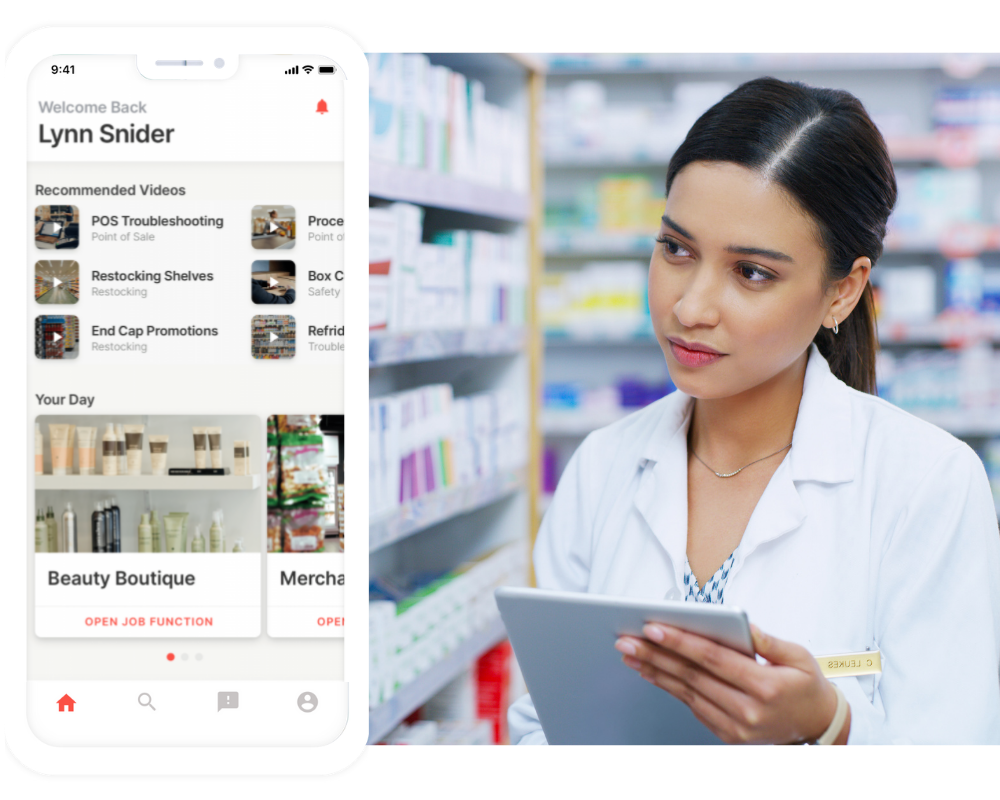 Cut the time to create and distribute new training content to your frontline from 6 weeks down to 3 days.
With Smart Access, one retailer cut the training time in creating and distributing new SOPs across their frontlines from 6 weeks down to 3 days. Not only is the speed of content creation a new competitive advantage for them but early measurement of learning effectiveness shows much higher viewership and application of the new procedures than traditional learning. Learn how you can deploy training in days versus weeks in our ebook.